A Recap of Justin Bieber's Most Controversial Moments
Justin Bieber has definitely had to say sorry in his career. 
With nearly a decade in the business, the 22-year-old has been at the center of both success and controversy as he's carved out a path for himself in the music industry. 
However, there have been some moments in particular that have landed the ""Love Yourself" singer on the wrong end of headlines, whether it be because of a controversial tweet, dropping his mic in the middle of a concert or being carted away in handcuffs. 
Most recently, the star has come under fire after a video (posted by TMZ) shows Bieber punching an unidentified man in the face after the stranger reached into the singer's car through an open window. A source tells E! News Bieber was "defending himself" while "the fan was going after him." 
While that particular incident may have been a moment of self defense, there have been times when it was much more difficult for Bieber to explain himself. Here are a few of those times: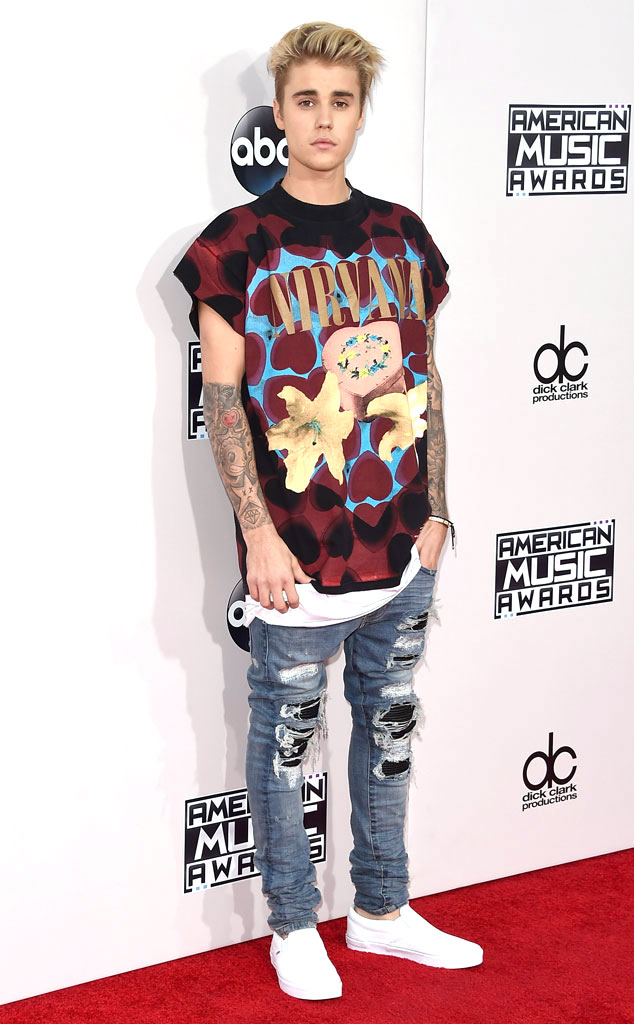 Jason Merritt/Getty Images
1. Walking on Eggshells
In January 2014, the singer was accused of egging a neighbor's home. Upon getting a search warrant, Sheriff's Department deputies raided Bieber's house looking for evidence and charges were subsequently filed against him.
He ultimately pleaded no contest to misdemeanor vandalism and paid $80,000 in restitution to his neighbors, completed community service and was on two years of probation. 
However, after being arrested for DUI in Miami a few weeks later, thousands of people signed a petition aimed at the White House to have the Canadian native deported. 
2. Honoring a Japanese War Criminal Shrine
In April 2014, the singer traveled to Toyko's Yasukuni Shrine, a structure that is controversial in the country because it honors Japanese criminals who committed horrific acts against China and other parts of Asia during World War II. Bieber sparked backlash after he Instagrammed a photo of himself bowing before the shrine."Thank you for your blessings," he captioned the shot. 
After learning of the shrine's history, the pop star deleted the original photo and uploaded a headline from Time about the incident. In the caption, he offered his apologies to anyone he had offended. 
"While in Japan I asked my driver to pull over for which I saw a beautiful shrine. I was mislead to think the Shrines were only a place of prayer," he wrote. "To anyone I have offended I am extremely sorry. I love you China and I love you Japan."
3. A Questionable Prediction About Anne Frank
After visiting the Anne Frank Museum in Amsterdam in April 2013, the pop star tweeted something that had some fans' heads spinning.
"Truly inspiring to be able to come here. Anne was a great girl," he tweeted. "Hopefully she would have been a belieber."  
A source told E! News at the time that the singer's comment did not come from out of the blue. "One of the guides pointed out that Anne was a big fan of pop culture of her time and that she might have been a fan of his, which led to what he wrote," the source said. 
Nevertheless, that didn't stop some famous names from sounding off on the gaffe.  "Anne Frank suffered WW2 and Justin Bieber hopes she would have been a fan?" Shameless star Emmy Rossum tweeted. "I have no words."
4. A Different Opinion on Prince
After the shocking death of the 57-year-old legend in April,  California Breed guitarist Andrew Watt penned an Instagram tribute to the late Prince, calling him "the last of the greatest living performers."
Bieber, however, didn't seem to agree. "Well not the last greatest living performer," he commented. The remark immediately caused a digital uproar. 
"@justinbieber 's comments were tasteless, disrespectful and lacked sensitivity and proof once again that Bieber needed to spend more time in a classroom or any learning environment that socializes you to others," one person tweeted.
(Visited 19 times, 1 visits today)
About The Author
You might be interested in