Beyoncé Showcases Sexy Outfits at Coachella: All About Her Styles
Beyoncé made her big comeback at Coachella 2018 on Saturday and she didn't disappoint, not with her performance and not with her sexy styles!
The singer showcased a number of hot looks during her set. Her outfits were custom-designed by Balmain's Olivier Rousting. The singer maintained a hands-on approach when it came to designing the different styles and involved her husband Jay-Z and their 6-year-old daughter Blue Ivy in the process.
Rousting, who has designed tour outfits for the singer before, told Vogue that her stylist Marni Senofonte approached him about designing Coachella looks for Beyoncé.
"Marni told me that the shows were all about survivors and that B was looking for something in a military style," he said. "Our silhouettes and our sort of Mad Max, futuristic take on military looks for fall were a perfect fit."
He worked with Senofonte, the singer herself and the rest of Beyoncé's team to create two custom Balmain stage wardrobes. She showcased one on Saturday and will wear outfits from the other onstage at her show this upcoming Saturday, during the second and final weekend of Coachella 2018.
Destiny's Child Reunion

Bey reunites with Kelly Rowland and Michelle Williams and the three sport corresponding outfits.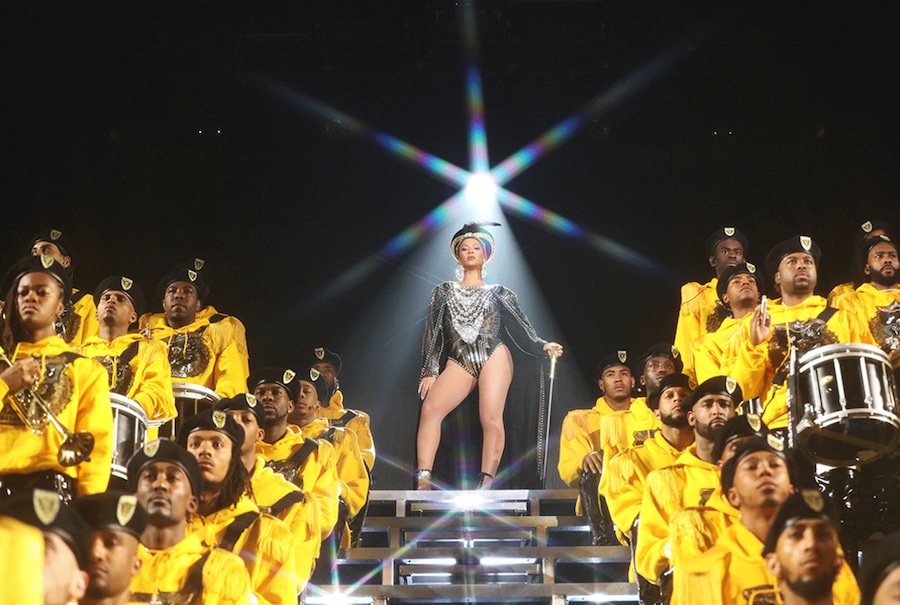 Andrew White
All Hail Bey

The singer wields a fancy regal staff.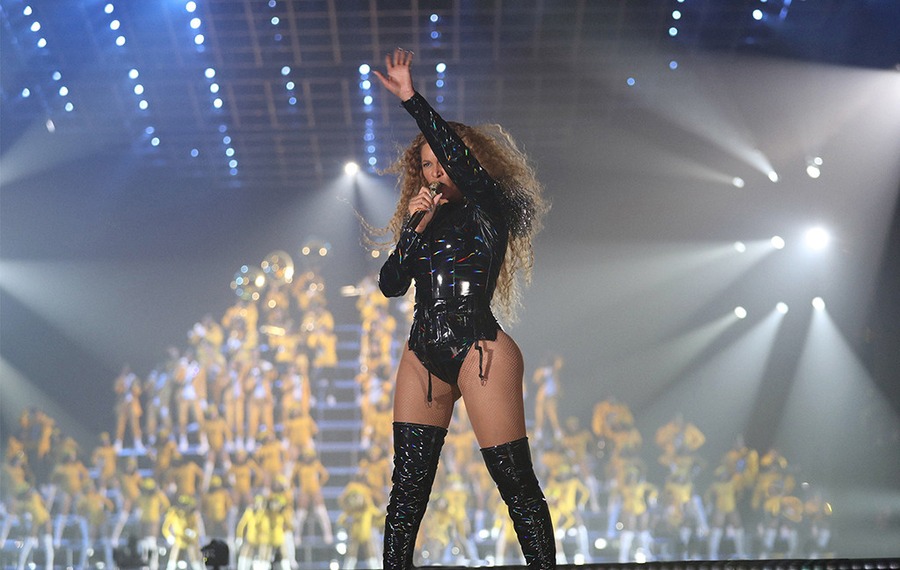 Raven Varona
Black Leather

The singer shows some skin in a black sexy style.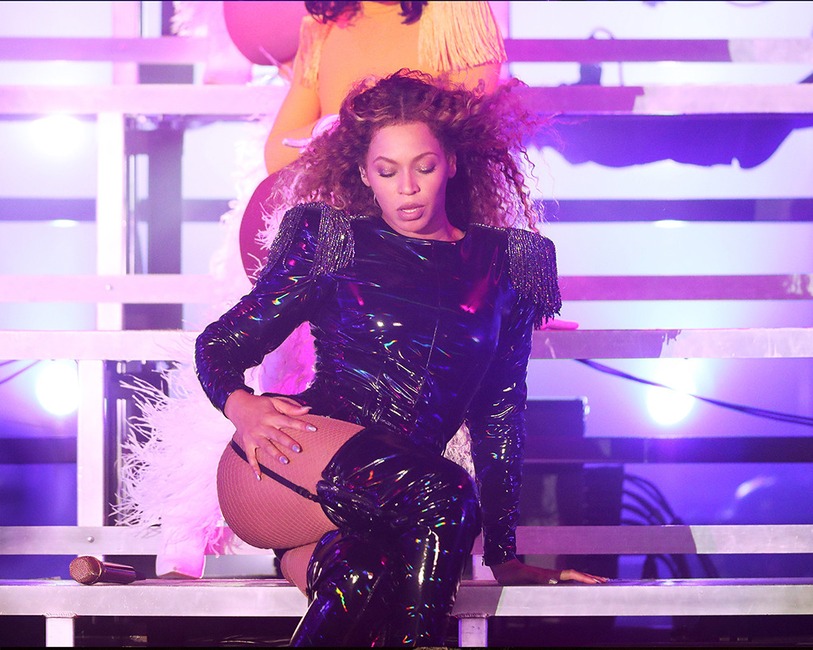 Raven Varona
Ooh-La-La

Bey goes risqué!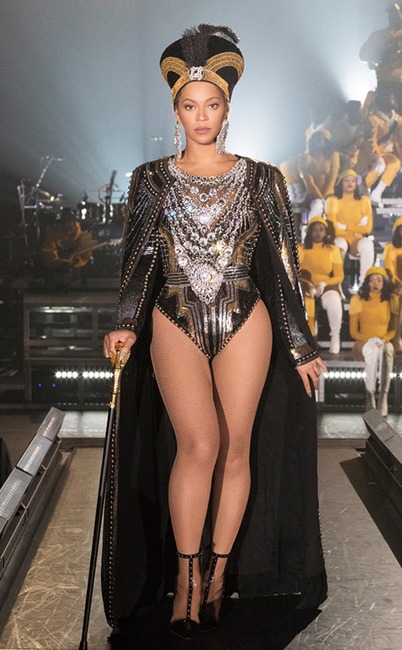 Robin Harper
Here Comes the Queen

The singer sports a regal look.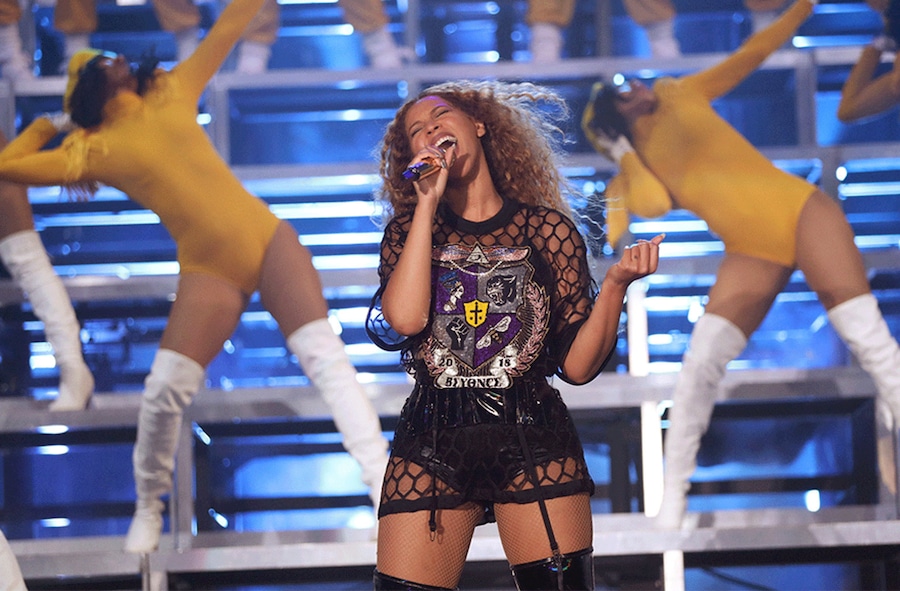 Raven Varona
Royalty

The singer wears a black fishnet outfit with a Beyoncé 2018 coat of arms. Because she's a queen.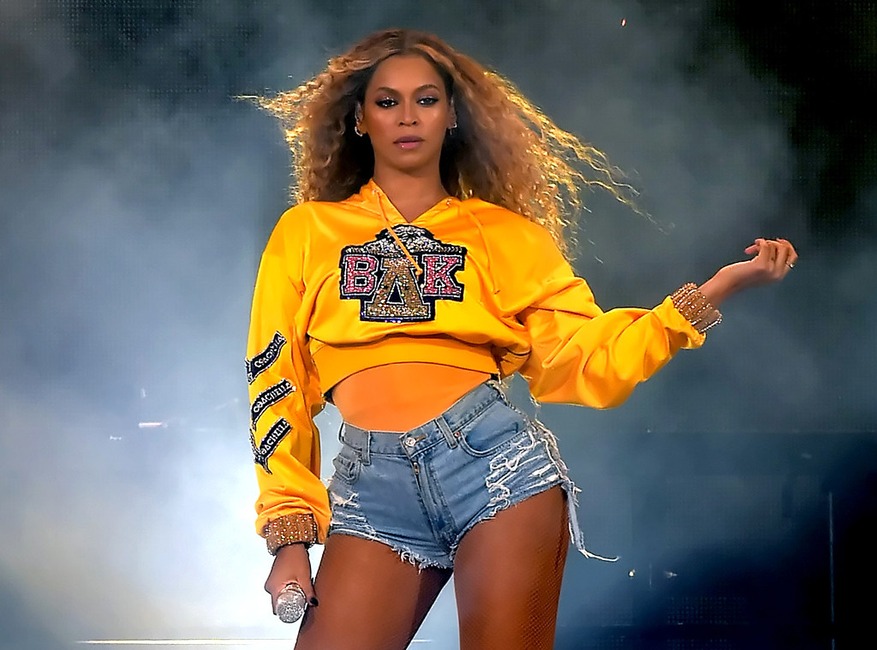 Kevin Winter/Getty Images for Coachella
Leggy Look

The singer sports a yellow collegiate-style embellished yellow hoodie with "BAE" written on the front and denim shorts.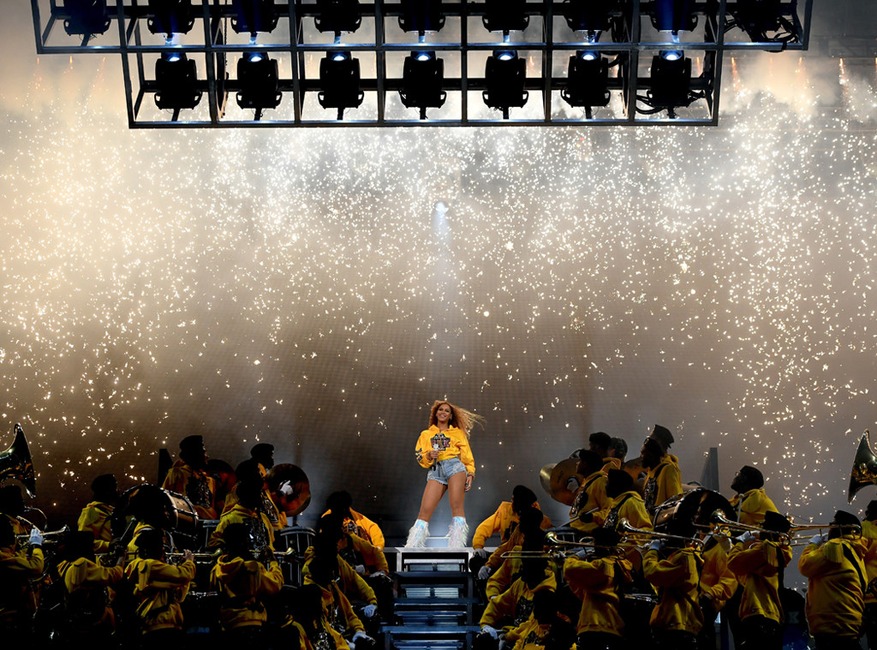 Larry Busacca/Getty Images for Coachella
Sexy Boots

The singer wears white, shimmering, fringed Christian Louboutin boots.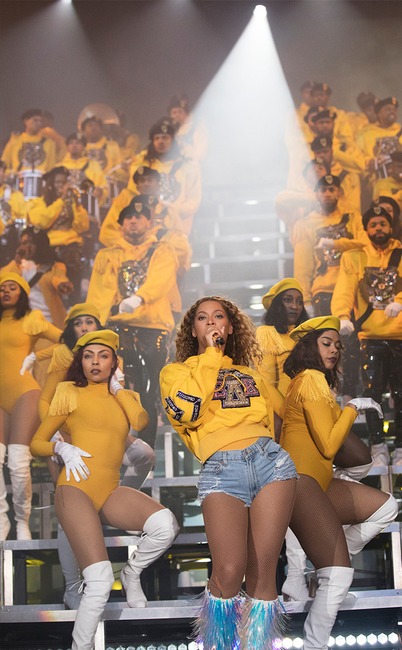 Robin Harper
Who Run the World

Bey's backup dancers match her.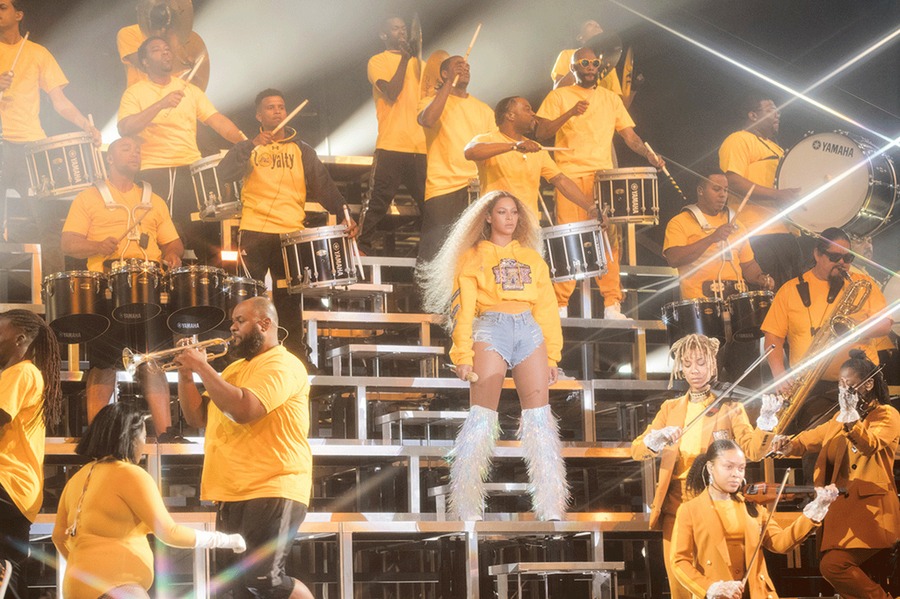 Andrew White
Standing Tall

The singer stands tall in her eclectic outfit amid her band.
The styles the singer wore during her first show including an Egyptian-inspired gold-and-black cape with intricate embellishments, a hologram-fabric black jacket and bodysuit, a collegiate-style embellished yellow hoodie with "BAE" written on the front—paired with denim shorts and Christian Louboutin boots, a camouflage and mesh minidress, as well as a top decorated with a 2018 Beyoncé crest that shows a bee, a raised fist, a panther and an Egyptian goddess.
"I think the thing I will always remember is sitting on the floor with B and cutting fabric," Rousting told Vogue. "Blue comes in and runs over to B, and B holds her in her arms while talking to us about the cuts and silhouettes. To me, it was just such a beautiful moment because here you are with this megastar but also, she is a strong woman and a loving momma to her daughter."
"Jay saw the Egyptian goddess cape and when B put it on, his eyes went wide and he was so excited," Rousting added. "He said, 'Oh, wow!' That gave me a lot of satisfaction."
Jay would later make a cameo onstage during Bey's performance.
Rousting said Beyoncé is a "perfectionist" who "has such a distinct vision for fashion and for her music."
"She would give me direct feedback about how the lighting should hit the clothes, what the music had to emphasize about each look," he said. "I never had to guess what to do next."
Beyoncé's performance featured a reunion with her Destiny's Child band mates Kelly Rowland and Michelle Williams. 
In true Destiny's Child style, the three wore corresponding outfits—black, sparkling camouflage looks, also created by Rousteing. He also dressed Bey's group of more than 200 dancers.
(Visited 1 times, 1 visits today)
About The Author
You might be interested in