Drake Nabs His First Win at the 2016 American Music Awards–and Has a Degrassi Reunion With Nina Dobrev
Kevin Winter/Getty Images
At long last, Drake is an AMA winner.
Actress Nina Dobrev and Dancing With the Stars judge Julianne Hough presented the "One Dance" rapper with the award for Favorite Rap/Hip-Hop Album at the 2016 American Music Awards Sunday. His 13 nominations for Views break Michael Jackson's record, set in 1984.
When Drake appeared onstage to collect his award, the cheers were deafening. "Thank you very much. Me and Nina were on Degrassi together, by the way. Congratulations on all your success," he said. "I want to thank everybody that helped me make this album, especially 40, [Noel Cadastre], all the producers on the album. I want to thank the city of Toronto," the rapper said. "And of course, I want to thank the fans. And my parents, my dad is here tonight."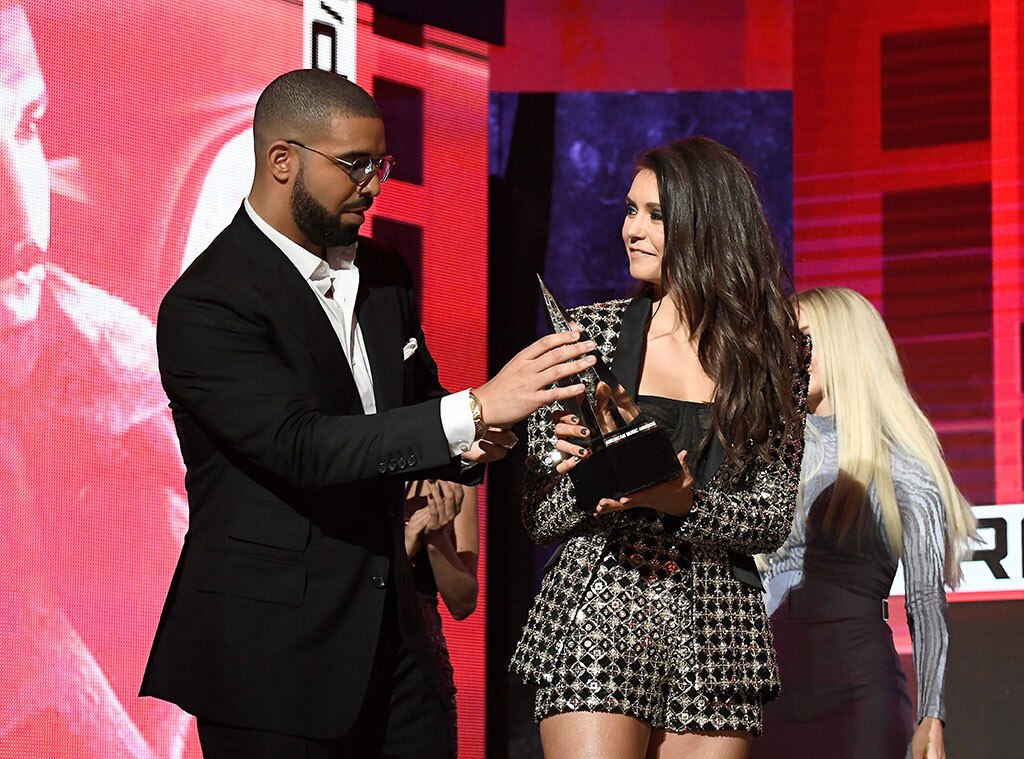 Frazer Harrison/AMA2016/Getty Images for dcp
"Thank you so much," Drake added. "It means a lot."
After Views was released in late April, the album shot to No. 1 and remained on the Billboard 200 chart for 13 non-consecutive weeks. "One Dance (feat. Wizkid, Kyla and Nineteen85) is also his first Billboard Hot 100 No. 1 single as a lead artist, spending 10 weeks in the top spot.
Drake is also up for Artist of the Year, Favorite Male Artist, Favorite Album, Favorite Rap Artist, Favorite Rap Song and Favorite R&B Song, among other awards. His frequent collaborator and ex-girlfriend Rihanna is close behind with seven nominations. Adele and Justin Bieber follow with five each, while Beyoncé and The Chainsmokers are both in the running for four awards.
The actor-turned-rapper earned his first AMA nomination in 2010 and has received 21 overall.
Watch the Fashion Police 2016 American Music Awards special Monday, Nov. 21 at 8 p.m., only on E!
(Visited 21 times, 1 visits today)
About The Author
You might be interested in