Meek Mill's Judge Allowed Him to Do Business with Convicted Felon Charlie Mack
Meek Mill
Judge Allowed Him to Do Business
With Convicted Felon
11/14/2017 11:57 AM PST

EXCLUSIVE
4:25 PM PT — Charlie Mack's team contacted TMZ and explained it was NOT Mack who was convicted on drug charges. The person convicted and referenced in the transcript was a member of Mack's management team. Mack has a clean record.
The judge in Meek Mill's probation case — who we're told is under FBI scrutiny for allegedly trying to pressure Meek into leaving Roc Nation for music manager Charlie Mack — broke protocol by giving Meek a pass to associate with a member of Mack's management team even though he's a convicted felon.
TMZ has obtained a court transcript in which the Assistant D.A. in Meek's case reminded the judge that she made a big exception for Meek associating with someone on Charlie Mack's team … someone who pled guilty in 1997 to conspiracy to possess with intent to distribute cocaine, for which he got a 60-month sentence. 
As we told you, the FBI is reportedly investigating whether Judge Genece Brinkley has a connection to Mack and whether she tried to steer Meek's business Mack's way.
According to the January 2014 transcript, Meek's attorney at the time, Gary Silver, and the prosecutor, Noel DeSantis, are discussing the terms of Meek's probation. It reads in part:
— THE COURT: "Okay. The other thing that was raised that I have to address is this issue about him signing parole papers, probation papers that he's not going to be around convicted felons … and the rules of probation state he can't be around convicted felons."
— DeSantis: "Your Honor, [Meek]'s not supposed to be around anyone who is under supervision and be around known felons. Your Honor made an exception back in the day with the management to Mr. Mac. That was the only exception that you made."
Mack has denied he has any relationship with the judge, but Meek's high-powered lawyer, Joe Tacopina, doesn't buy it. He thinks the judge crossed the line in a big way — he believes she tried pressuring him into working with Mack because of their alleged business relationship.
Judge Brinkley violated Meek's probation last week and he's been thrown back in prison for 2 to 4 years. Tacopina thinks the judge's ruling is tainted by her conduct and should be thrown out.
Tacopina tells TMZ, "Another first in my 26 years of practice. Just shocking."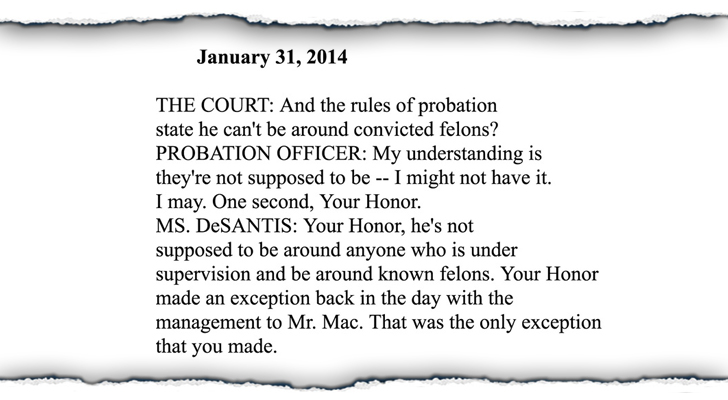 (Visited 10 times, 1 visits today)
About The Author
You might be interested in