Tracing Kate Gosselin's Rocky Road Since Jon Gosselin Was Bounced From the Jon & Kate Plus 8 Equation
Jon + Kate hasn't equaled a whole couple in quite some time.
It's been seven years, in fact, since Kate Gosselin and Jon Gosselin got divorced, their split coming after 10 years of marriage—the latter years of which they spent as the first family of reality TV.
The world first met the Gosselins, then newly parents of eight, when their Pennsylvania home was renovated for the NBC reality special Home Delivery. Discovery Health featured them in a 2005 special, Surviving Sextuplets and Twins, followed by 2006's Sextuplets and Twins: One Year Later.
In April 2007, Jon and Kate Plus 8 premiered and, after two seasons, the family moved to TLC, going from fringe curiosity to more mainstream entertainment. They eventually moved into a $1.3 million home in affluent Lower Heidelberg Township and almost 10 million people tune in for their fifth-season premiere.
In her 2010 book I Just Want You to Know, Kate recounted some of the financial blessings that came with having a reality show, everything from help with groceries and Christmas presents to the tummy tuck she famously received gratis.
"Groceries came exactly when we needed them, we had a 'shoe angel' who got us through numerous seasons by providing eight pairs of shoes, we received clothing and even Christmas presents from viewers of our show," she wrote. "Everything was always taken care of." 
But with the added celebrity came added pressure and problems for Jon and Kate, the obvious disciplinarian of the bunch—and because she was the most vocal of the two parents, the one who was heard from the most while trying to run the household, she became the target of the most outside criticism.
The birth of their sextuplets on May 10, 2004, had already made them local celebrities. The babies—three boys and three girls—were dubbed "the Hershey kisses" following their arrival at Penn State Hershey Medical Center.
But being featured on a home-makeover show and getting some financial assistance from Discovery in exchange for opening their home to the cameras was nothing compared to what they faced when their every move and then some was being scrutinized. And sure enough, the Gosselins announced in 2009 that they were separating amid rumors that Jon had been unfaithful.
Jon denied cheating, but Kate told Entertainment Weekly at the time, before they split up, "Jon's poor judgment and irresponsible behavior has also without a doubt caused some added tension and stress between the two of us."
The show initially went on hiatus, but production resumed after it was reconfigured as Kate Plus 8, no Jon required.
At first the Gosselins seemed to agree to joint custody and that could've been that—but it wasn't.
While Kate has remained a frequent fixture on TV, also appearing on Dancing With the Stars in 2010, Celebrity Wife Swap in 2013 and Celebrity Apprentice in 2014—she has said on more than once occasion that she does it for the money and would rather disappear from the public eye—Jon returned to workaday life, remaining a celebrity because of his scandal-plagued reality TV days. Kate now has full legal custody of their five daughters and three sons, while he has partial physical custody and a strained relationship with some of the kids.
But though the world hasn't quite gotten enough of her—Kate Plus 8 is returning to TLC for a fifth season starting Nov. 22—Kate has always seemed mildly ticked off by the attention and the continued interest in her private life, despite the fact that she continues to seek it out.
Perhaps, having always had to play the "Mom" role, she just feels misunderstood, trapped in a box that's been labeled "Divorced Mother of Eight" for the past seven years.
"The truth is, for the sake of my children, I am going to continue taking the high road because it's the only road for me," Kate said on The View in 2009 after filing for divorce. "It is not easy. I melted down over the weekend, in the privacy of my own home I melted down. It's difficult to wake up every day and wonder what kind of things are going to be thrown my way."
Asked why she had ever wanted to go on TV and "expose her whole family like this" in the first place, Kate said, "Season one to season five is a totally different world. When we started it was an innocent…first of all, TLC and Discovery has never had a show that has done what our show has done. So when they came to us and said, 'Hey, let's do this little documentary,' we're like, 'Oh, it's cute' and you watch all the little things…and you say, 'That's just precious, those little families. Do they have paparazzi following them? Chances are, no.'"
She added, "So you're going into it saying, 'it's a great thing.' But we slowly eked into this and so many people are so funny and they say, 'Just stop! Just pull out.'… I could stop and I'd still have all of the flak and the lack of paycheck. Let's face it, I have to support my children. I'm a single mom and now more than ever, I need to be out there working hard.
"It comes with a price. Every job that everybody chooses to do comes with a price." As for the kids, Kate reiterated that they were free to take breaks from the camera whenever, but she would continue to keep steering the ship for people's viewing pleasure.
And Kate's role as the authoritarian mom, whether that was a fair perception or not, followed her everywhere she went.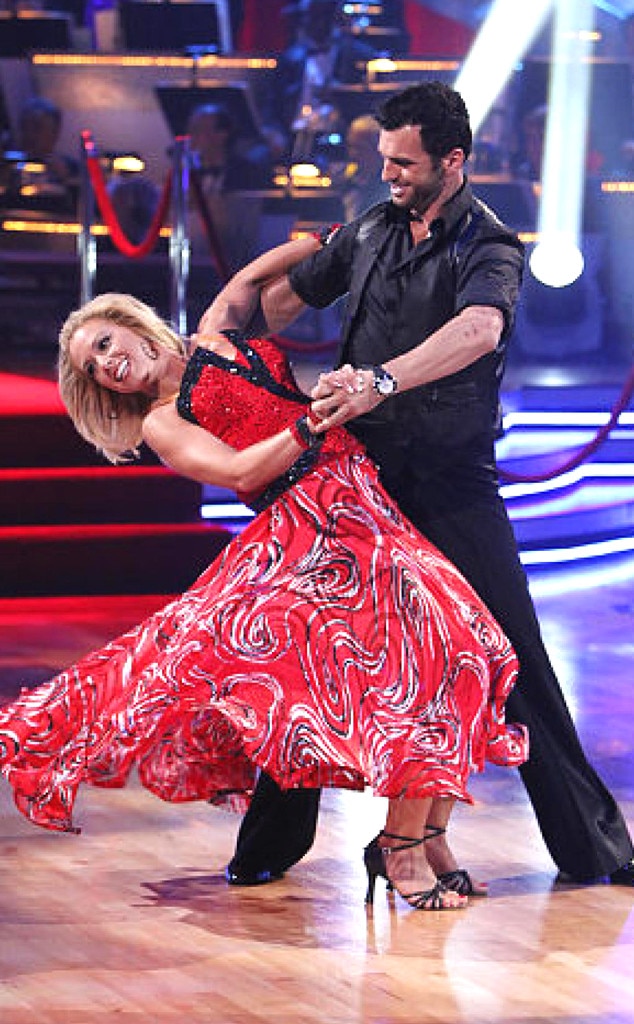 ABC
Even her Dancing With the Stars partner, Tony Dovolani, talked about how difficult it was to get Kate to let him take over during rehearsal—presumably a result of her feeling she needed to be in control all the time in every other aspect of her life.
"Regardless of what Kate's past is, the thing with the struggle is… especially now after we had that entire conversation—she's starting to understand regardless of how tough I may be…I'm on her side," Tony explained to Access Hollywood. "I'm actually trying to make her look good. Once that was cleared up, she understood that I'm not actually going against her. I'm not trying to cause any problems for her. All I'm trying to do is make her look good."
Their discussions on the show about mutual trust luckily only lasted till the fourth week, when the rhythmically challenged Kate was voted off.
When she got the ax from Celebrity Apprentice after tangling with Kenya Moore and Vivica Fox in the boardroom, Kate told Matt Lauer on Today in February 2015 that she was "genuinely surprised" to have been fired.
"I am real, on and off camera, you know I get a lot of flak for that," Kate reflected. "In hindsight I think I underestimated the ability of drama to succeed versus real-life hard work."
Asked about her day job, Kate Plus 8, she said her kids were at an age where the struggle to keep an even keel was real.
"Parent across America are saying, 'Yup, I'm there. You have a couple more but I'm doing it,'" she said. "And I think the important lesson is to hold firm, to put into them the good beliefs and ethics and morals and values that I always stuck to and, you know, we'll all be OK."
Unless asked specifically about him, Kate has almost never mentioned Jon's name over the years, instead getting her point home by referring to herself repeatedly as a "single mom" and talking about how it's up to her to provide for the kids.
"I'm one of many single moms out there. It's not ideal," she lamented on a Kate Plus 8 special that aired in 2014. "On a very busy day where the logistics aren't lining up—I have to be here to pick this kid up and I have to be there to do whatever, that happens so often now I can't even tell you.
"It's really easy to feel like just saying, 'It's too much." There's me and there's eight kids. I don't think an hour goes by that I'm not reminded that those odds are completely unbalanced."
Dating and forming relationships hasn't been easy, either, as evidenced by a blind date that was featured on the most recent season of Kate Plus 8.
Her actual type, as she explained on Today last year, would be "somebody who can withstand the chaos and the noise in my house. I've sent babysitters running and screaming, pulling their hair out. A lot of people just can't withstand all the movement in our house."
In December, Kate and Jon Gosselin will have been officially divorced for seven years, and they have never reached friendly-ex status. Rather, things seem to be taking a turn for the worse.
First of all, the show has gone on despite Jon's public objections to his kids continuing to be on TV. "Developmentally, they have problems with their peers, and they have problems with talking to other people," he told Oprah Winfrey in 2013. "They have problems with wants and needs and manners and morals and what's right and what's wrong. I think more so than someone who grows up off TV."
Back in June, Jon told Yahoo that it's still difficult for him to get in time with his kids, despite his court-mandated right to weekly dinners and overnight visits every other weekend. Moreover, he said, he hadn't seen son Collin, one of the sextuplets, in a year and a half. (Kate has said that Collin has "special needs" that pose "educational and social challenges.")
He said that sometimes he was reduced to Twitter sightings to find out where Kate was with the children.
"People are always like, 'Oh, I would fight so hard [for a better custody arrangement],'" Jon continued. "I'm like, 'Honey, you don't have the money to fight that hard. Do you know how expensive court is? You have no idea.' All the filings—and I do my own filings, then submit them to a law firm for stamp of approval—I have to pay for that. And pay all the court fees in the hopes that you'll get something out of it. I've been going to court for seven years now. Unless you can arbitrate out of it and have a working relationship with the other parent, you're going to spend a lot of money."
Daughter Mady, now 16, told People that the picture her dad was painting of their mom keeping them away from him was a skewed version of the situation.
"He makes it seem like we're being kept from him, which is insane. He should maybe spend some time thinking about why we don't want to see him, and maybe realize that if he ever does want a relationship with us, talking about us on TV is not the way to make that happen."
And now tensions are heightened on the eve of Kate Plus 8's return to TLC, with Jon alleging that something isn't right about Kate's treatment of Collin, who according to his mom is enrolled in a residential program that can better help him with his learning difficulties and social skills.
Jon told Entertainment Tonight that Kate won't even answer his texts, so he doesn't know what's going on.
"We're both court-ordered not the speak about the care and custody of our children in detail," Kate said in an interview that aired on Good Morning America this week. "I have known all along where he is. The world doesn't know. And, I'll leave it at that." As for Jon's stated plan to take her to court again, she replied, "I've lost track how many times he has said that. I'm really focused less on what he has to say."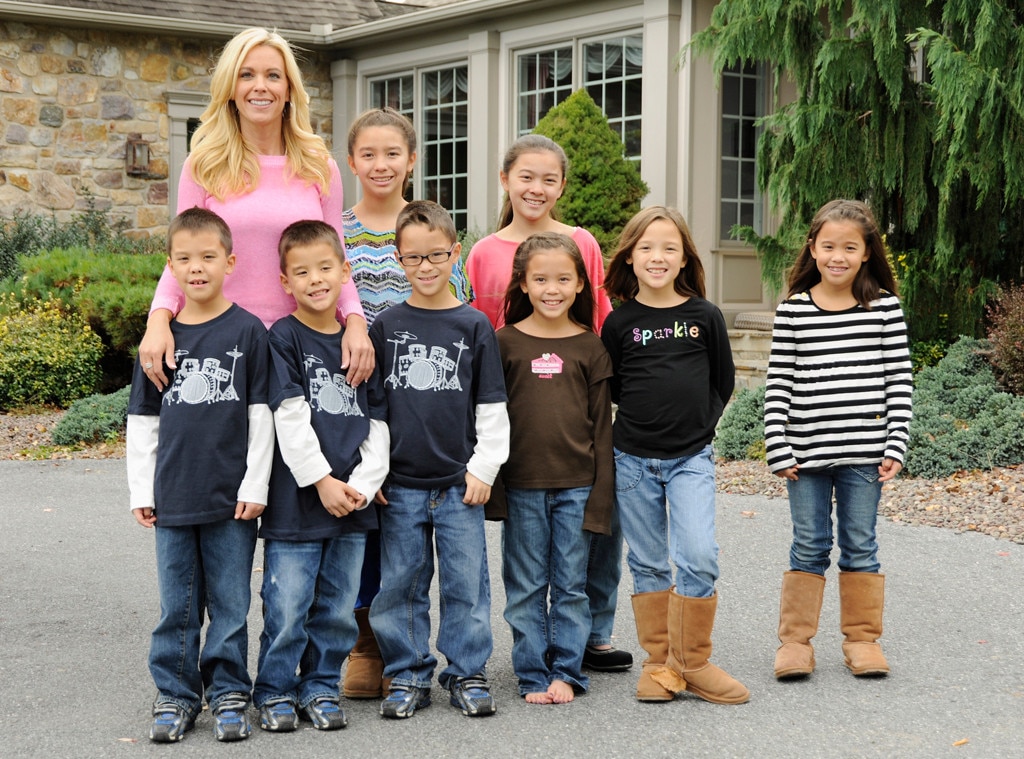 Donna Svennevik/ABC via Getty Images
Asked about tabloid reports that Collin had been mistreated, either by her or at the school he's at, Kate insisted that any and all allegations were "absolutely" unfounded.
"I'm in the public eye. I have been investigated many times," she said. "It's always unfounded, obviously."
"Jon is absolutely hurt by statements made about Collin and Jon's role as his father," Jon's attorney, Kristen Doleva-Lecher, told E! News. "I can assure you that Jon is very concerned about all of his children. He is a loving father and he is acting in accordance with the law to do what's right for the kids."
Meanwhile, Kate and her family have been on TV in some form or another for more than 10 years—and, ironically, now her teenage kids are playing the role of Mom's biggest critic.
"I just want you to stop yelling and being stressed," Mady reprimands Kate in a sneak peek at the coming season. "It's annoying."
(Visited 33 times, 1 visits today)
About The Author
You might be interested in